Here's How the Mayor's Fund for Los Angeles Supported the City During COVID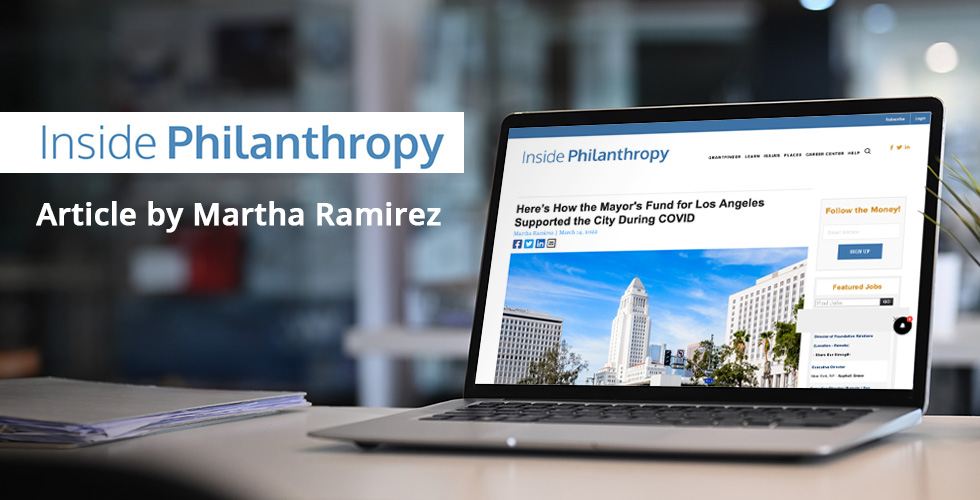 Article posted at Inside Philanthropy by Martha Ramirez, March 14, 2022. Read the article here.
It's been more than two years since COVID-19 upended the world. In that time, we've seen numerous examples of people coming together to support each other, with one of the more notable trends being cross-sector collaboration.
In Los Angeles, many of these public-private partnerships have been successful. As Inside Philanthropy has written before, philanthropists and private companies have come together to try to close the digital divide, establish an education recovery fund for students in the second-largest school district in the country, and support immigrants.
One prominent example of impactful local cross-sector collaboration during COVID-19 is the Mayor's Fund for Los Angeles. According to its annual report for the 2021 fiscal year, the Mayor's Fund, which was established about one year after L.A. Mayor Eric Garcetti took office in 2014, has raised $74 million in COVID relief funding from 15,000 donors since the pandemic began, and has offered assistance to more than 225,000 Angelenos.
According to the report, foundations gave $42,129,079, individuals contributed $42,551,901, and corporate donors gave $35,081,013. Other contributions, including in-kind and government, totaled about $2.6 million.
Donors include the Ahmanson Family Foundation, the Annenberg Foundation, the California Endowment, the Weingart Foundation, the Eli and Edythe Broad Foundation, City National Bank, Coca-Cola Company, CVS, Facebook and Fidelity Charitable.
The report shows that the Mayor's Fund has been effective in its operations, with more than 90% of the fund's dollars going directly to its programs. Less than 4% were spent on overhead expenses.
"As we did the reflection through our annual report this year, we've been reminded of how important the role that the Mayor's Fund plays here in Los Angeles to drive impact and change," said Deidre Lind, its president and CEO.
A model for other cities
The Mayor's Fund for L.A. drew much of its inspiration from the Mayor's Fund to Advance New York City. Megan Sheekey, who served as president of the New York fund for eight years during Mayor Mike Bloomberg's administration, helped advise the L.A. fund's growth.
Sheekey worked with Lind and the Mayor's Fund for L.A.'s board to develop the organization's long-term goals, management structure and governance. (Sheekey is now at Bloomberg Associates, the philanthropic consulting arm of Bloomberg Philanthropies, where she works with mayors and city leaders to foster and structure public-private collaborations. She has provided resources for cities looking to engage in cross-sector collaboration.)
According to Sheekey, while city government is positioned and resourced to address many of the challenges residents face, there are numerous things that can limit its ability to respond.
"The intention of a mayor's fund, or similar entity, is not to take the place of established local charities or compete with them," Sheekey said. Rather, the role of a mayor's fund is to facilitate collaboration between local government and community partners to invest in civic priorities.
Just as the Mayor's Fund to Advance New York City provided a model for the Mayor's Fund for Los Angeles, Lind hopes the L.A. mayor's fund can serve as a model for other cities.
"We seem to be in a moment where folks have sort of lost trust in government," Lind said. "I think a model like the Mayor's Fund for Los Angeles shows that we can believe that government can make a difference and that we can help government be better, be stronger, be more impactful, be better for its residents when we can identify those opportunities for private sector dollars."
Stepping up during COVID
Unsurprisingly, one of the biggest areas of focus for the Mayor's Fund over the past two years has been its COVID relief programs, which have included small business support, technical assistance for street vendors, emergency childcare, senior meals delivery, and providing protective gear and healthcare supplies for vulnerable communities.
For instance, the fund created Secure Emergency Relief for Vulnerable Employees (SERVE), which provided $8 million in cash assistance to 10,000 food service workers whose incomes declined due to restaurant closures, and the Grocery Initiative for Vital Emergency Needs (GIVEN), which distributed more than $3.7 million to more than 12,500 families in the form of cash assistance for food and other necessities during the holiday season.
In addition to these programs, the Mayor's Fund also launched a direct cash assistance program called the Angeleno Card, which provided prepaid debit cards to cover basic needs including medical assistance, food, clothing and rent payments. The money was directed to Angelenos most in need, regardless of immigration status. A total of $36,761,979 was disbursed to more than 100,000 Angelenos.
According to Abigail Marquez, general manager of the City of Los Angeles' Community Investment for Families Department, households were able to access the Angeleno Card in eight to 10 weeks.
"It was incredibly helpful to have the Mayor's Fund because we were able to stand up programs faster than government agencies," Marquez said. "It allowed for the city to be nimble. We were able to activate our network of service providers to stand up these programs."
"When you work within a large city bureaucracy or any large system that has a lot of layers of approval, it just delays the implementation," Marquez added. "So this really allowed us to quickly transfer these funds to low-income families across the city." Marquez also worked with the Mayor's Fund on Project Safe Haven, a program that helped secure safe housing for survivors of domestic abuse during the pandemic.
As many reports have shown, vaccine equity has been a major ongoing issue throughout the country. The Mayor's Fund launched the Mobile Outreach for Vaccine Equity (MOVE) program, which allowed underserved communities to access mobile vaccination clinics. As of December 2021, MOVE deployed 141 mobile clinics and delivered 150,188 vaccine doses to neighborhoods that have reported lower-than-average vaccination rates.
The Mayor's Fund also mobilized to encourage Angelenos to get vaccinated by partnering with American artist Shepard Fairey and Studio Number One to create and put up "Protect and Respect" posters across the city.
The fund also partnered with T-Mobile and several community organizations to launch the Angeleno Connectivity Trust, which provided free internet access to 18,000 underserved students.
In addition to its COVID relief programs, the fund also continued its work around citizenship and immigration, education, workforce development, community-building, government innovation, and sustainability.
Uncertain prospects
Although the Mayor's Fund for Los Angeles is an independent nonprofit with its own budget and governance, its position alongside and in alliance with city government has led to scrutiny in the past. In particular, some observers have asked whether the fund serves as a means for big-dollar donors to ingratiate themselves with Garcetti.
While the Mayor's Fund does receive significant contributions of more than $5,000, Lind noted that one of the fund's donors contributes $20 through a money order, showing that the fund isn't just a vehicle for big giving.
The fund is also meant to persist beyond the administration of any one mayor, just like its New York City analogue. In a press release, Mayor Garcetti, whose term will be ending this year, encouraged the next mayor of Los Angeles to continue the work of the Mayor's Fund.
The fund has raised more than $60 million with Garcetti in office. It's still unclear how a change of administration will affect its fundraising prospects, but as Lind told us last year, "Our partner is city government, and city government is not going away."
In the end, the position of the Mayor's Fund may be an unusual one, perched between city government and private donors, but that positioning has paid dividends during the pandemic in terms of getting aid out the door quickly to communities.
"Government cannot do this work alone," Marquez said. "We need the support from philanthropy and other private funders to be able again, to enhance our services to be able to address unmet needs."
Related News