Mayor Karen Bass Announces Direct Cash Assistance Program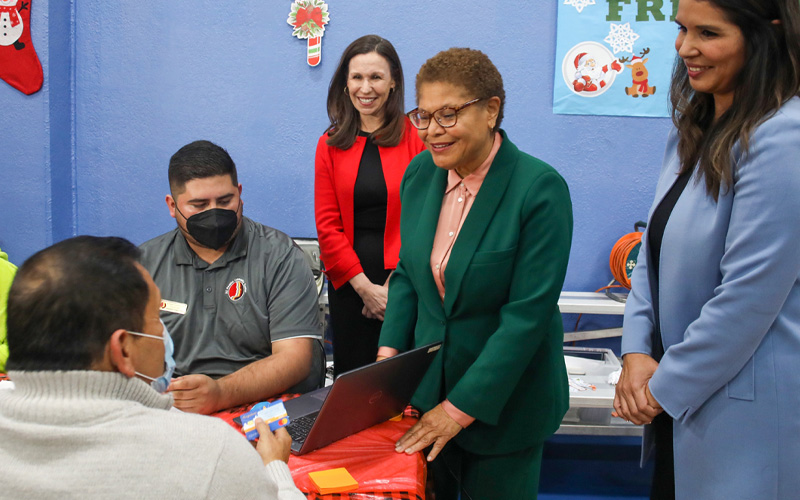 Mayor Karen Bass joined the Mayor's Fund for Los Angeles today to announce that $1.5 million will be distributed to Angeleno families in need this holiday season through GIVEN, a direct-cash assistance program.  The announcement, made in partnership with the City's Community investment for Families Department, comes just after Mayor Bass' historic inauguration as the first woman and the second Black person to serve as mayor of Los Angeles and builds on her campaign promise to advocate for working-class families.
GIVEN is a program of the Mayor's Fund for Los Angeles conducted in partnership with Mayor Bass and the City of Los Angeles' Community Investment for Families Department and its FamilySource centers. Through the initiative, direct cash assistance of $300 will be provided to 5,000 families across Los Angeles who need help with groceries and other necessities as the holidays approach. To kick off the program, Mayor Bass will attend a holiday give-out event on Dec. 16 at the All Peoples Community Center FamilySource center in Southeast Los Angeles.
"I've promised to work on behalf of all Angelenos—and that means making sure low-income families aren't left behind," said Mayor Bass. "I'm proud that GIVEN, one of the first programs launched under my administration, will provide direct and immediate financial assistance to help brighten the holidays for families who are going through a difficult time."
To qualify for cash assistance through GIVEN, families must meet criteria that include residing in the City of Los Angeles, having a household income at or below 80% of the area median income and demonstrating hardship. This is the sixth direct-cash assistance program under the Mayor's Fund for Los Angeles since the pandemic began through which almost $50 million has been distributed to more than 130,000 Angelenos. Anonymous spending data across all programs has shown that a majority of the funding received has been spend on groceries and household essentials. Funding for GIVEN comes from the thousands of generous Angelenos who have donated to the Mayor's Fund for Los Angeles since the pandemic began.
"The Mayor's Fund and the City are leading the nation forward with groundbreaking investments in direct cash assistance programs, because we know they can reduce poverty," said Deidre Lind, president and CEO of the Mayor's Fund for Los Angeles. "We are thrilled that Mayor Bass is doubling down on that investment by launching GIVEN, which will give families the additional resources they need to make ends meet this Holiday season."
The City's FamilySource Centers will administer GIVEN by distributing cards to qualifying families.
"Our FamilySource Centers are the heart of our service delivery system – places where Angelenos in neighborhoods across the city know they can go for the help they need," said Abigail Marquez, General Manager of CIFD, which oversees the facilities. "We are proud to support Mayor Bass' GIVEN program with our network of resources, and help connect families with this important financial lifeline."
About The Mayor's Fund for Los Angeles
The Mayor's Fund for Los Angeles is a non-profit organization dedicated to improving life for all Angelenos. Uniquely positioned at the crossroads of local government, business, philanthropy and nonprofits, the Fund facilitates communication and collaboration between the public and private sectors to find solutions to Los Angeles' most complex challenges. It was established in 2014 as a permanent resource for Los Angeles residents that spans across mayoral administrations. Information at: www.MayorsFundLA.org.
About Community Investment for Families Department
On December 9, 2020, the Los Angeles City Council voted to create a new department to assist families who were already vulnerable to economic uncertainty before the COVID-19 pandemic and are far more vulnerable now.
The new Community Investment for Families Department (CIFD) was created to establish poverty-reduction goals for the City; play an active role in implementing homelessness prevention programs; oversee the following programs that ensure smart impactful initiatives are taken that will build a path for Los Angeles community residents in need to create financial security with the ultimate goal of ending generational poverty:
Basic Income Guaranteed: Los Angeles Economic Assistance Pilot (BIG: LEAP)
Opportunity LA – Children's Savings Account
Neighborhood Improvements Projects
FamilySource Centers
Free Tax Prep LA
Survivor Services
Solid Ground – Homelessness Prevention
Office of Traffic Safety
Immigrant Inclusion and Language Access
Teen Parents Prosper
Related News