Mayor's Fund for Los Angeles Named to Fast Company's 2023 Most Innovative Companies List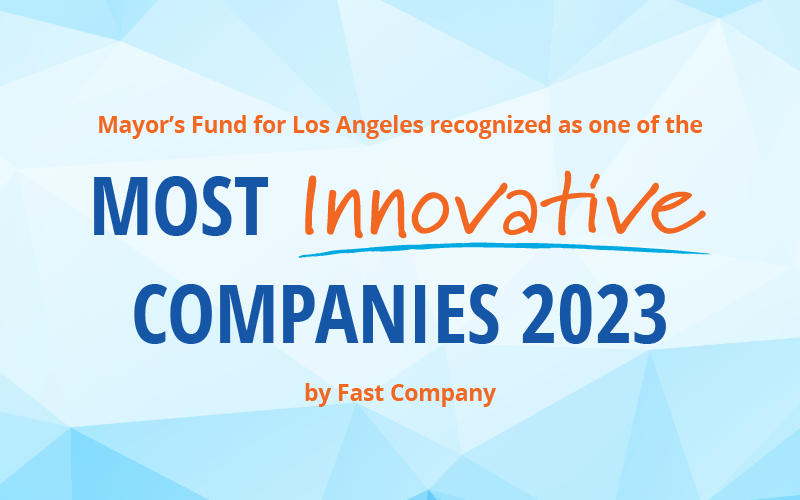 The Mayor's Fund for Los Angeles has been selected for Fast Company's 2023 Most Innovative Companies list. The prestigious annual award recognizes the "best in business" that are transforming their respective industries. The Fund is listed as number eight in the Social Good category of companies.
The Mayor's Fund for Los Angeles bridges the gap between L.A. city government and the private sector, harnessing vast resources and the innovative power of the business and civic communities to make government work better. The Fund was recognized this year for developing and activating City programs that saved lives and livelihoods during the COVID-19 pandemic, brought critical support to the fight against homelessness, and made L.A. a more equitable city for everyone.  Since the beginning of the pandemic, the organization has raised $76 million from 12,000 different donors, and the Fund has used that support to serve more than 100,000 Angelenos. 
"The Mayor's Fund has always been about finding new ways to turn bold ideas into action," said Deidre Lind, president and CEO of The Mayor's Fund for Los Angeles. "This award is a testament to the inspiring leadership of our Board and staff, and to the strength of our community partnerships. We are honored to be recognized for the impact this organization makes in Angelenos' lives."
Fast Company is a business media brand written about and for progressive business leaders. A team of the publication's reporters and editors use their knowledge about the future of business to select The Most Innovative Companies each year. The Mayor's Fund joins an elite selection of businesses named to this year's list—including OpenAI, Disney and more—that have transformed their industries and greater society. 
Over nearly a decade, led by a committed group of board members, staff and community partners, the Mayor's Fund has grown into a well-resourced, resilient and sustainable organization with transformational impact across Los Angeles. This innovative approach enabled the organization to adjust nimbly to emerging priorities, and lead the nation forward as big cities confront some of the biggest challenges they've ever faced.
Related News