U.S. China Climate Summit
A 2015 summit brought together local and regional leaders from the U.S. and China to set goals and confirm emissions targets. MFLA acted as sole fiscal sponsor for the event.
Affirming the power of municipal and regional leadership to confront climate change, on both sides of the Pacific.
Mayor Garcetti and the City of Los Angeles hosted the first U.S.-China Climate Summit on September 15 and 16, 2015.
The summit followed a landmark climate change agreement between President Obama President Xi Jinping in November 2014. The summit was the first official convening of U.S. and Chinese sub-national leaders on climate change under the Climate Change Working Group. Over 500 attendees joined Mayor Eric Garcetti, California Governor Jerry Brown, Vice President Biden, and 26 local leaders from both nations.
During the summit, the assembled leaders committed to the U.S.-China Climate Leaders Declaration, which affirms commitments by cities, states, and provinces to meet emissions targets that exceed national goals. The summit identified verifiable actions to combat climate change while supporting and expanding bilateral cooperation and dialogue. The summit also featured a Climate-Smart/Low-Carbon Cities Initiative will respond to urbanization and rising greenhouse gas emissions from cities.
MFLA served as sole fiscal agent for the summit, working with sponsors and partners who underwrote all summit costs to ensure its success.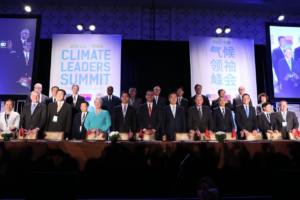 "It's great when national leaders set big goals. But if you don't have local leaders carrying them out, they're just words on a page."
-Quote from Vice President Biden at the Summit
Key Impact
600 attendees
25 regional leaders signed the Climate Leaders Declaration, committing to emissions reduction targets

Partners
Mayor's Office & City of Los Angeles
Office of the President & US State Department
Regional Mayors across the US and China
Office of the Governor
Programs Similar to U.S. China Climate Summit
L.A.'s Bloomberg Innovation Team (i-team) is a nexus for next-generation civic initiatives at City Hall. Using data-driven techniques, the i-Team generates new solutions to challenges facing L.A.
News Related to U.S. China Climate Summit