MFLA COVID-19 Crisis Response
Responding in real-time to the immediate needs of Angelenos.
15,000+
Generous Donations
The Mayor's Fund for Los Angeles launched the L.A. Emergency COVID-19 Crisis Fund in March 2020 to provide support to Angelenos affected by the pandemic. As the long-term impacts of the pandemic continue, the MFLA Emergency COVID-19 Crisis Fund continues to provide economic and social services relief to Angelenos. In partnership with the City, the Mayor's Fund for Los Angeles has quickly deployed millions of dollars to directly support those who need it most.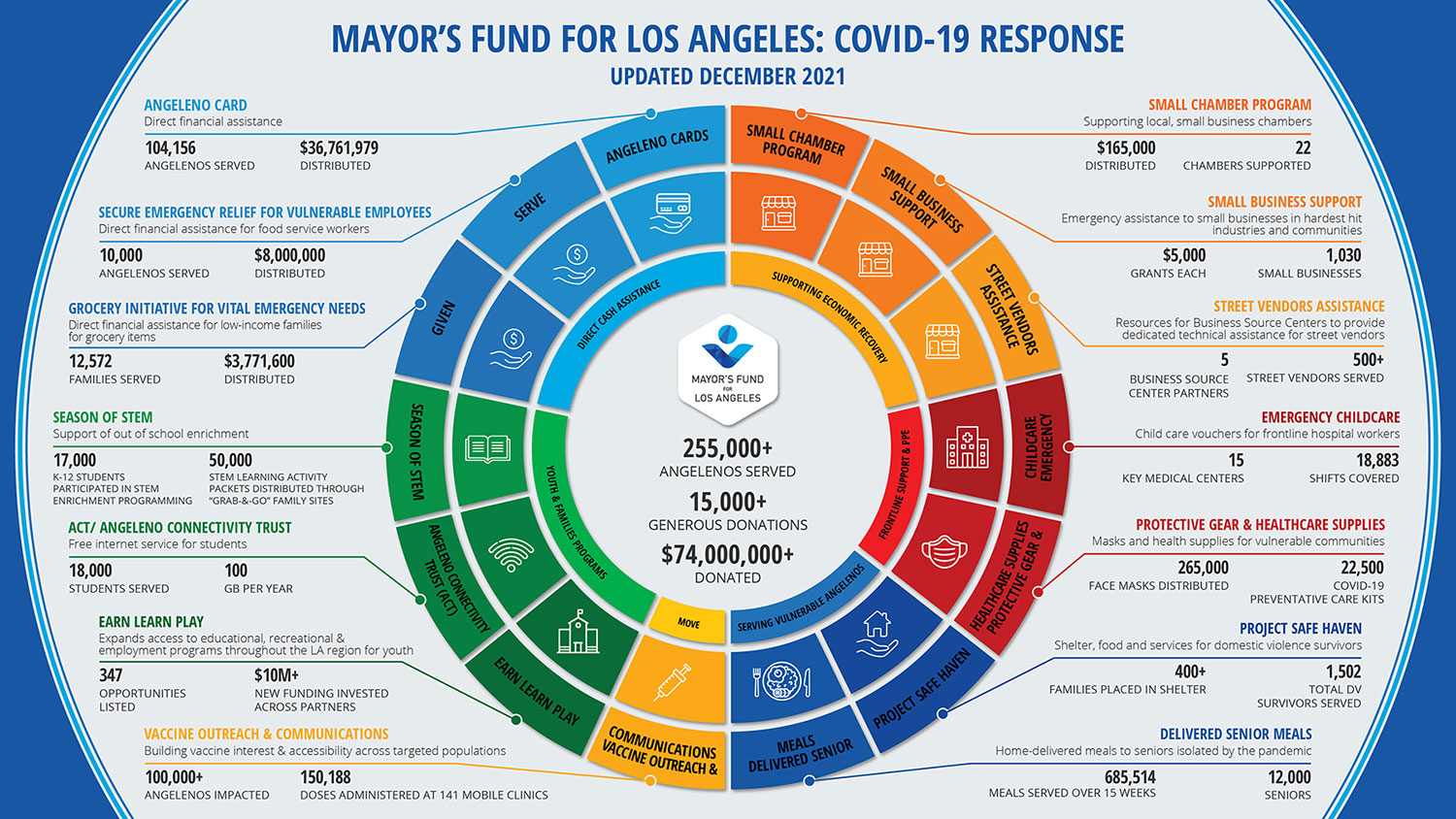 To date, MFLA's COVID-19 Relief Funds have supported the following programs:
The Angeleno Connectivity Trust provides free internet service to students in Los Angeles who are struggling to stay connected online to classes and essential support services.

The Mayor's Fund for Los Angeles continues its COVID-19 relief efforts with a focus on economic development.

Immediate child care support for essential healthcare workers at the onset of the COVID-19 pandemic.

An effort to scale up mobile vaccinations in some of the most vulnerable parts of Los Angeles by administering vaccine doses through mobile units in some of the hardest hit communities.

Project Safe Haven secured safe housing for 1,500 survivors of domestic abuse during the pandemic along with meals, counseling and legal support for individuals and their children.

Immediately doubling the City's meal delivery program to serve 12,000 home-bound seniors following the COVID-19 Safer-At-Home order in Spring 2020.

MFLA partnered with the City to provide $800 virtual cash assistance cards to more than 9,000 eligible food service workers who experienced a decline in income in the early days of the pandemic.
Key Impact
Delivering immediate relief to support Angelenos impacted by the pandemic, including direct cash relief, hot meals, vaccine awareness, shelter assistance, etc.
Issue Area
Disaster Relief & Recovery
Partners
(Partial List)
Mayor's Office
City of Los Angeles: LA Emergency Management Department, LAFD & LAPD
Los Angeles Family Source Centers
Funders
Over 10,000 generous Angelenos
Philanthropic foundations
Business
Programs Similar to MFLA COVID-19 Crisis Response
The MFLA & First Lady Amy Elaine Wakeland led an effort to replace care packages for homebound senior citizens.

The City of Los Angeles now has the nation's first publicly available earthquake early warning mobile application: ShakeAlertLA.
News Related to MFLA COVID-19 Crisis Response