Summer Night Lights
Summer Night Lights is a nationally recognized model of effective civic partnerships. By keeping L.A. parks open during summer nights, SNL curtains crime and provides space and programming for families and young people.
Awards & Acknolwedgements
MFLA was awarded the 2017 HUD Secretary's Award for Public-Philanthropic Partnerships by the US Department of Housing and Urban Development (HUD) and the Council on Foundations for its work with Summer Night Lights.
6,000,000
Community members served since 2008
3,500,000
Healthy meals served
This award-winning program has brought civic partners together to serve over 6 million Angelenos and reduce gang-related violence.
Summer Night Lights (SNL) is an award-winning program that uses cross-sector partnerships to make Los Angeles communities safer, healthier, and more resilient.
In neighborhoods at risk from gang activity, SNL taps into the resources of the Mayor's Office of Public Safety's Gang Reduction and Youth Development (GRYD) team, the L.A. Police Department, and L.A.'s Recreation and Parks Department to keep city parks open into the evening throughout the summer. At each site, local nonprofits and trained staff provide free family-oriented athletics, arts, learning, food, and health and wellness. In 2022, the program expanded from 32 parks to 43 participating parks.
Over ten summers, the program has become a national model for civic partnerships done right. By creating a bridge for private funding, MFLA has broadened the reach of Summer Night Lights to hundreds of thousands of families across L.A.
Since 2008, SNL has provided free-of-charge programming to over 5.6 million community members, served over 3.5 million healthy meals, and created over 9,174 jobs including 2,220 youth hires.
Through Fall Friday Nights, aspects of SNL continue each year at L.A. parks into November. MFLA is proud to continue facilitating this eagerly-anticipated summer mainstay for some of the city's most vulnerable communities.
View more at: https://www.lagryd.org/summer-night-lights.html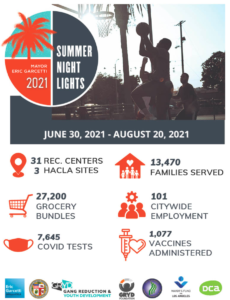 *Reduced 2021 SNL programming due to COVID-19 pandemic
Key Impact
MFLA, with its philanthropic partners, has contributed more than $12 million to SNL programs.
Issue Area
Community Building, Equity, Youth
Partners
Mayor's Office of Gang Reduction & Youth Reduction (GRYD)
Los Angeles Department of Recreation and Parks
Los Angeles Police Department
GRYD Foundation
Programs Similar to Summer Night Lights
The 2020 Census Goodwill Ambassador program became even more important during the COVID-19 pandemic to ensure Angelenos were aware of, and able, to complete their 2020 census forms.

The MFLA & First Lady Amy Elaine Wakeland led an effort to replace care packages for homebound senior citizens.
News Related to Summer Night Lights