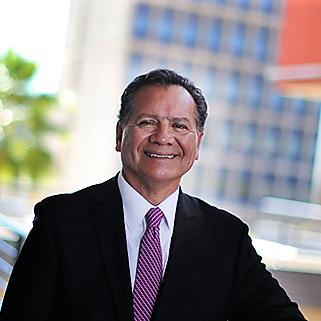 George L. Pla
George L. Pla is a successful entrepreneur, philanthropist and author whose work spans business and civic activities focused on empowering communities throughout California. He is the Founder and CEO of Cordoba Corporation, a nationally recognized engineering firm, whose innovative leadership was the subject of a Harvard Business School case study.
George Pla is the Governor's appointee, currently serving as the President of the Los Angeles Memorial Coliseum, host of the 2028 Summer Olympics. As a Trustee of
the California Science Center Foundation Board, George chaired Cordoba Corporation's historic transport of the Space Shuttle Endeavour through the streets of Los Angeles.
George is a co-founder of the City Club, a premier private club in Los Angeles that embraces and reflects the diversity and spirit of the city. In addition, he is a member and former Co-Chair of the Southern California Leadership Council, a non-partisan, non-profit public policy partnership comprised of business and community
leaders. Mr. Pla also served on the Board of Directors of the Catalina Island Conservancy, which stewards the island through a balance of conservation, environmental protection, and education.
George Pla is the co-author of the formative book on Latino politics, Power Shift – How Latinos in California Transformed Politics in America which recounts the history of Latino political empowerment in California and beyond.
For his lifetime commitment to education and exemplary community and business leadership, George will be bestowed with an Honorary Doctorate Degree from Cal State LA at the upcoming Commencement Ceremony in May 2023.