Mayor's Fund for Los Angeles Announces New Leadership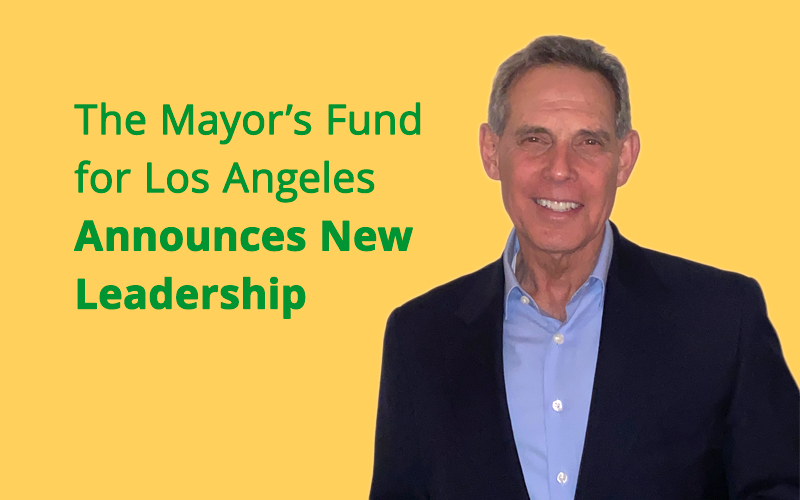 The Mayor's Fund for Los Angeles today announced a new President & CEO, anti-poverty leader Conway Collis, and a new Board, Chaired by David White. Mayor Karen Bass will serve as an Advisor to the Board.
"We must all lock arms to move L.A. forward, and the Mayor's Fund for Los Angeles will be an essential way for the private sector, philanthropy and individual Angelenos to join in to make life better for all Angelenos," said Mayor Karen Bass. "I know Conway Collis, and the new board will be tremendous leaders for the Mayor's Fund. Conway and I have worked closely together for years to reduce child and family poverty, advocate for foster youth and improve neighborhoods in our city and nationwide."
"From launching free community college in L.A. to helping hundreds of thousands of Angelenos during the pandemic, the Mayor's Fund for Los Angeles has proven itself to be a critical resource for our city, and I am grateful to Kathleen Brown, Deidre Lind and the entire former Board and Staff for their work," Mayor Bass said.
"Los Angeles is filled with generosity in spirit and deed, and I am honored to help the Mayor's Fund support initiatives to address our city's most crucial problems," said Mayor's Fund for Los Angeles President & CEO Conway Collis. "Along with Chair David White and our distinguished Board, we will focus the Mayor's Fund on where it is most needed in this moment."
Joining the Board are:
Remaining on the Board is:
Jarrett Tomás Barrios, Senior Vice President of Strategic Community & Programmatic Initiatives, California Community Foundation
Stepping down from the Board are:
Kathleen Brown
Dee Dee Meyers
David Nathanson
Amb. John Emerson
Janice Bryant Howroyd
Conway Collis bio
As founding President/CEO of GRACE/End Child Poverty CA, Collis led GRACE and End Child Poverty CA from inception in 2013 through 2021. He led the 2018 development and implementation of a comprehensive evidence-based child and family poverty plan for California, and m$4.8 billion per year of the funding recommendations have been adopted, resulting in more than 290,000 children and families moving out of poverty in California and an additional 115,000 out of deep poverty in 2019-20.
Collis was previously Senior Counsel and Chief Public Policy Officer for the Daughters of Charity Health System, where he led state and federal policy changes that provided $40 billion to serve Medicaid patients in California.
As an elected member and Chair of the California Board of Equalization, he directed reform of the state sales and income tax bureaucracies, sponsored successful measures including the Taxpayers Bill of Rights, tax code enforcement of laws against discriminatory practices, and childcare tax credits.
Previously he was a Counsel on the U. S. Senate Committee on Labor and Public Welfare working on domestic social programs and related issues. He is currently Senior Advisor to GRACE/End Child Poverty CA and President of CaliforniaTomorrow, focused on the development and funding for comprehensive place-based anti-poverty programs and funding for anti-recidivism organizations.
Collis was the founding Board Chair of the National Foster Youth Institute from 2012-2021, now serving on the Board, co-chaired the CA Lifting Children and Families Out of Poverty Task Force and chaired the State Senate Bi-Partisan Task Force on Homelessness. He served as Treasurer and Policy Chair for Bass for Mayor 2022.
He is a graduate of Occidental College and Stanford Law School.
Related News